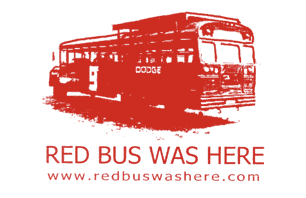 download stickers PDF (119K)
this site is being updated right now!
go west, young traveler
Sorry this site still has so little on it! The Red Bus, christened Jolly Dodger in 2003, is now in Papa Joe's capable hands. The number of riders keeps growing! If you have a story you'd like to share about the Jolly Dodger, e-mail chris@osric.com.
coming soon:
bus specs
trip details (Pallet of Mescal, Hoot Owl Manor, House on the Rock, Burning Man 2003)
rider profiles